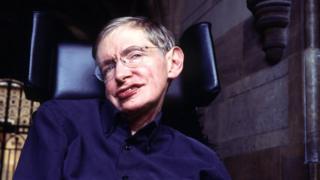 As the world mourns the death of Stephen Hawking, in Cambridge – where he lived and worked – people remember a familiar face often spotted on the streets and in the university's halls.
In the wake of the news, the mood in the city was not so much sombre, as one in which many recalled a visionary who had touched the lives of residents, students and academics.
From "I spotted him once in the pub", to "I've heard some of his inspirational talks", the scientist was synonymous with the city, which bears the mark of his legacy.
A bust in his likeness sits in Cambridge University's Centre for Theoretical Cosmology and the Stephen Hawking Building was named after Gonville and Caius College's most celebrated fellow.
Outside the very site which housed his accommodation when he joined as a PhD student in 1962 is a simple sign announcing his death.
Countless passers-by stop on their way to work, or to the shops, and pause to read it.
"His work is a testament to human determination," says history student Maddy Ducharme.
Her thoughts echo many of those who have lined up to sign a book of condolence opened by the college.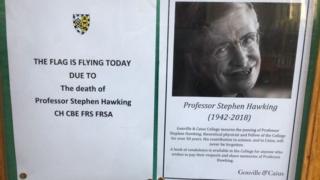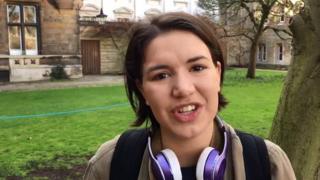 Some of those now studying at the university were inspired to study science by the professor, including physics student Arno Liu.
"When I was 12 my mum bought me A Brief History of Time.
"He wrote it in a very humorous way which kept me focused on the ideas he had. He was one of the reasons I got dragged into physics."
Stephen Hawking: A life in pictures
China's love for the late Stephen Hawking
The 17-year-old was one of those who queued to sign the book of condolence.
"I quoted a Dylan Thomas poem, Do Not Go Gentle into that Good Night. It's written for people not to give up, but to fight on in life."
Although he had not met the professor, Mr Liu was among those who attended Prof Hawking's 75th birthday celebrations at Gonville and Caius last year.
"Everybody was trying to chat with him but seeing him was enough for me," he adds.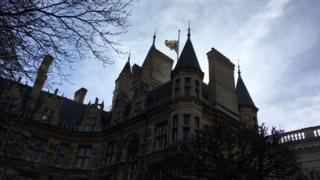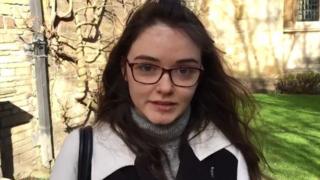 Caius' law student Amy Edwards-Knight, 21, was also there and remembers a "gorgeous piece of music" which had been composed to mark the occasion.
"They had the choir perform and he gave a really lovely speech.
"He talked about what Caius had done for him, and his connections to the college, and waxed lyrical about the abilities of really understanding the universe and how he didn't think that he ultimately ever did, completely."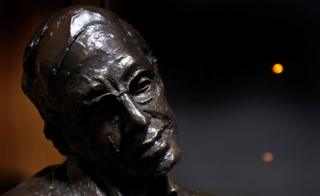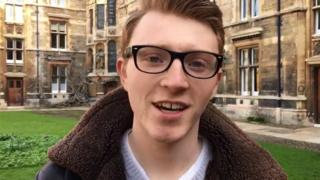 "I sat pretty close to him in the hall," adds Evan Adair, a 21-year-old student at the college.
"For me it was special. I'm a historian – I'm not a scientist – but I know that he's made a really big contribution to the way that we understand the world today."
Despite his failing health the professor still attended dinners in the college, and Caius' bar worker Jesus Gorjon remembers being asked to make room for a certain guest on one occasion.
"I was doing a dinner at the college and my boss told me to make some space for 'Stephen' and I said 'OK'.
"I didn't know who 'Stephen' was, but when I saw it was him, I was like, 'oh, I've made some space for Stephen Hawking'."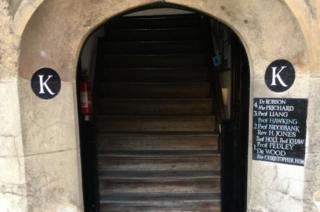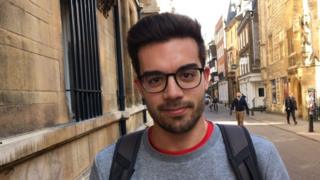 The professor also surprised TV actor Stephen McGann, who ran into him at Antonio Carluccio's restaurant in Cambridge.
Paying tribute on Twitter, the Call the Midwife star said: "To anybody who lives in or near Cambridge, Stephen Hawking was a constant reminder of brilliance that wants to share the same air.
"You would come across him in the street – in cafes or shops. I last saw him at the next table in Carluccio's. I'll miss that."
As people mourn the passing of the man whom many held in awe, those in his home city are fondly remembering a familiar man about town.
Several recall "coming across" the scientist in the street.
"He ran over my foot years ago on King's Parade," one wrote on Twitter. Another replied: "I can top that – I nearly crashed into him on my bike."
But Ms Ducharme sums it up for many when she says: "Professor Hawking showed such inspiration, such determination.
"We're all so lucky to have lived at the same time he did, and to live in Cambridge at the same time he did."
Read more: http://www.bbc.co.uk/news/uk-england-cambridgeshire-43399171