R. Kelly's live-in girlfriends are here to tell you they're NOT
In their joint interview, Savage and Clary insisted they're both in consensual relationships with Kelly and are completely happy living with him. Clary even broke down while defending the embattled singer, shouting:
"I am crying because you guys don't know the truth and you guys believe in some f*****g facade that our parents are saying for money and if you can't see that then you're ignorant and you're stupid!"
The yet-to-be-aired interview follows the intense sit-down Kelly had with King that aired earlier Wednesday. In it, the embattled singer implied that his girlfriends' parents "sold" them to him as teenagers in hopes of developing a working relationship.
Now that each family has been cut out, Kelly claimed, they're speaking out against him because they want money from him.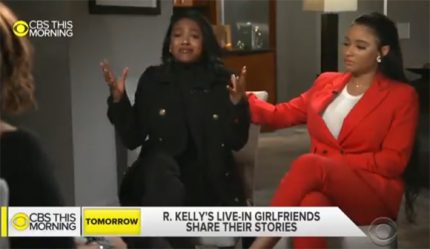 Savage had addressed her controversial relationship with Kelly in the past, dismissing her parents' claim that she was being kept in a sex cult.
After Kelly's interview aired, her parents held a press conference saying they were "disturbed" by his comments. Timothy Savage, Joycelyn's father, said:
"We watched it as a family. It's disturbing. It's emotionally disturbing for all of us. I sit there and I want to not just pray for my daughter but pray for Mr. Kelly to get some kind of healing."
Joycelyn's mother, Jonjelyn, added that watching his interview made her fear for her daughter's safety, musing:
"I can only imagine what he does behind closed doors when there's no cameras."
The interview comes after Kelly was arrested for 10 counts of aggravated criminal sexual abuse last month. As we reported, he was ordered to not have contact with anyone under the age of 18 and to surrender his passport.
If convicted, Kelly is facing up to 70 years behind bars. Neither of his live-in girlfriends is involved in the case.
Savage and Clary's full interview airs Friday. In the meantime, watch a clip of their emotional sit down (below).
WATCH: @GayleKing spoke to Joycelyn Savage and Azriel Clary about living with R. Kelly and their estranged relationship with their families. It made them very emotional.

We'll bring you more of their interview, tomorrow only on @CBSThisMorning. pic.twitter.com/R9IWQmy8RR

— CBS This Morning (@CBSThisMorning) March 6, 2019
[Image via CBS News]
Read more: https://perezhilton.com/r-kelly-girlfriends-cbs-interview/